Listening to: James Blunt "Same Mistake"
I have to start this entry with a major thank you to a random traveller out there, surprisingly enough from the US, Gavin. I would not be in Indonesia without his help and random act of kindness. More on that in a second. I took a morning flight from Singapore to Jakarta on Tiger Airways. Supposedly Air Asia requires you to have an exit flight from Indonesia, I have one, however Tiger did not ask. I don't know if this was just a lapse on their part because it was 7 in the morning, but I do know that my friends who took a flight from Singapore to Depensar on Air Asia could not get onto their flight without an outbound flight. I have heard similar things from other travellers as well, so something to keep in mind.
The airlines weight your carry on before you go through airport security. On Tiger it is 7 kilos, I think Air Asia might be 10, but don't quote me on that. My carry on was less than 7 kilos so I went through security and posted up for the flight to Jakarta. I mdae friends with a very nice Canadian girl on the flight, and we have since become travel buddies. The travel guides say that flights in and out of INdonesia are rarely on time, and they were correct. We sat on the runway for a good hour before we took off.
When I went through immigration, I assumed that the $25 visa fee could be paid by credit card, or that there would be an ATM before you exit…there is not. There is absolutely no way to get money, if you do not have it, until you get through customs. I did not have money. As I was trying to bribe the customs agent with the random smattering of various monies from other countries…100 Thai Baht here, eight Singapore dollars here…twenty Malay ringitt…Gavin, the American, offered his assitance. He paid my $25 and I told him I would pay him back on the other side.
I went through customs and was granted a 30 day visa. By the time I walked out the front door of the airport and was looking for a bus to Jalan Jaksa, I was three hours later than I was supposed to arrive in Jakarta. I managed to find an ATM and took out 1,000,000 Indonesian Rupir. $100 USD. But it's nice to know that for once in my life, I had a million of anything in my wallet.
I hadn't heard anything really…well, good about Jakarta. The guide books hyped Jalan Jaksa as the backpacker district, so another Dutch girl and I teamed up as the only two white people in the area and tried to find a bus to Jaksa. No one spoke English, with the exception of the taxi drivers, and for some reason the people really kind of freaked me out. I can't explain it, but the people of Jakarta had a very unfriendly vibe to them. Obviously, every person's experience is completely different, but I did not feel safe, at all, in Jakarta. The bus ride was easy enough and took less than an hour to the Gambire station. From there I followed the train tracks on our map that led us to Jalan Jaksa. Yes, it is near impossible to read road signs and such if they are in a different language, train tracks and ocean fronts are always helpful navigational tools. We walked up and down Jalan Jaksa and found a major shithole for 70,000 rupir…$7 for the night. The water stank, there was a towel for a sheet, and the fan may have very well been the first fan ever invented, but it was dirt cheap. $7 for both of us. I set my bags down and set out for the streets of Jakarta. I went into three different travel agencys to see what they recommended I should see in Jakarta,
"Did you see the National Monument?"
-Yes, I'm assuming that is the giant thing you pass on the way to Gambier station.
"Yes. How about Jalan Jaksa?"
-Aren't I on Jalan Jaksa?
"Yes. Lot's of bars."
I looked down the stree, it was about a quarter the length of Kho San Road, with three bars on the street. This was supposed to be Indonesias answer to Bourbon Street.
I walked up and down about twenty blocks and got strong stares everywhere I went. I started feeling uncomfortable, I don't know if it was all the prostitutes, or the children running around, or the cats with their tails cut off, but I did not like Jakarta, no matter how cheap it was. I had a traditional Indoesian lunch dish that was the hottest thing I think I may have ever eaten, with two cokes, and it was $2. I went back to Jaksa and was prepared to move on.
I saw two friendly people sitting in a travel agency and joined them to find out their plans. They were a couple, one from Ireland the other from Italy, traveling together as much do for over a year, starting in SE ASIA, onward to OZ and NZ, and then South America. I am envious of the dozens of couples that I continue to meet that are doing such a trip, not just because of their travels, but the fact that anyone can stay together for THAT long, man. Phew.
Anyway, they were looking at doing an overland tour from Jakrta all the way to Bali. The tour was $200, but, it left Jakarta on Sunday morning by train, got into Yogyakarta Sunday afternoon. Stayed in Yogya for two nights, on Moonday we would head to Borobudur and then Tuesday make our way to Bromo. Wednesday morning we would get up early to see the sunrise and the volcano, and end the evening in Bali. It was a solid 40 hours of overland travel in essentially 3 days, with three nights accomodation and everything sorted. All the mini buses and taxis and buses and trains. It was expensive, but having done it, it was worth it. Franz, the owner and tour guide, explained how he has three wives, and very simply, why.
"There are 3 times as many women in the world as there are men…the women are supposed to not have a man? No, each woman should have a man. This is why I marry more than one."
Franz was quite a salesman, and I could easily see how he had gotten three women, in three separate cities, to agree to be his harem of wives. Franz himself was one of the better stories I have from my travels. he carried a homemade machete in waste band, had spent time in prison for murdering someone, and now spent his time visiting his wives.
We went out for some drinks and dinner and one of the locals who worked for the travel agency came to hang out with us. This also became a story. It became pretty obvious to me early on that she was trying to work her way into sleeping at my place that night, saying things like "I live an hour away from here…I have to work in four hours…where are you staying…" and so on. She was very nice and I'm sure her intentions were only that of from a crush, as she later posted on my facebook account
"Hope can meet u again next time. I missed u all guys. Maybe someday we could go together to bali. Mmm… I wanna tell u something, but pls dont think something bad bout me. U remain me of my ex bf from NY. He ever lived in jakarta 8years ago. I loved my ex bf alot, but too bad we have to break up. Coz he wanted me to stay with him in NY without marriage. So i think i have crush on u. I hope we still can be friend, even now u know how i feel bout u. I know i'm not perfect, coz i'm not pretty n slim. N u're really nice guy n nice looking. So can we still be a good friend?"
It defintiely went from cute and innocent, to stalkerish. She started calling my friends who had posted their numbers on my facebook account and sending me more and more messages. The funny part is, I don't think I said more than two words to her the entire time I was in Jakarta.
Sunday morning I woke up to the sound of the muslim chanting over a loud speaker. It's literally just like the movies, only in the movies it isn't four in the morning and you're in a pool of sweat with a towel for your blanket. I got ready and went to meet up with Franz, our tour guide for the0 next four days, who would take us to the train. So, taxi #1 to train #1.
The train experience is something that, no matter how long I tried or how many times I tried or how many pictures I took, I will never be able to do it justice. No A/C, windows that slightly crack, however everyone on the train smokes, so it's like a smokehouse. (Cigarettes are about $1 here…) That would be fine, as I have gotten used to the heat and whatnot, however, the worst part is all the peddlers. for the next 10 hours, TEN HOURS, every stop Indonesian locals rotated on and off, bringing a fresh new bacth of crap to sell. They would shout in Indonesian-literally, for ten hours straight, place their item on your lap, put it in your face, whatever they could do to get your attention. Easily over a hundred of these people came through the train, nonstop. Selling rice rolls, water, condoms, hats, noise makers (similar to the kind you would hear/see on NYES), CD's, and other random crap. It was ridiculous. Worst though, were the disabled people asking for money. People without legs or arms, a burned face, missing all their teeth. It was a rough ten hours.
We got into Yogya at almost 4pm. We checked into Hotel Indonesia and I set out for the streets. Our group was me plus three; the couple I met and then another Dutch girl. I went out onto Marioboro street, walked to the palace and dealt with all the tuk tuk drivers and haggled for bracelets and such. I found a streetside tattoo parlor that was doing temporary tattoos with henna stylized ink but could last up to three weeks, and bartered to get a ridiculous temporary tattoo of a dragon on my neck. I look like a hoodlum, but only temporarily. The people were much friendlier in Yogya than in Jakrta, but even still, there are SO MANY people trying to sell you stuff. After seven weeks it really starts to get old.
I met up with the rest of the group later, had some Bin Tangs and ate dinner with my bare hands and called it an early night. We had to get up at 6 the next morning to head to the temples.
Borobudur was amazing. Having to get up that early was pretty rough, I was going on almost 4 hours of sleep a night for the fourth day in a row. Borobudur took a little over an hour to get to. We beat all of the other tours and schools, so we had clean pcitures and a giant Buddhist Temple all to ourselves. The ESL students started showing up though, and started asking us individually if they could practice their English with me. I must have spoke to about 30 different Indonesian kids. I signed their shirts. They took my picture. It was surreal.
We then took another minibus to the Prambanan. On the way there we stopped at a silver making factory and learned how the Indonesian people make silver. Apprently 90 percent silver is the highest grade you can get, because pure silver breaks and won't hold. The rest is mixed with copper. That's a fun fact.
The Prambanan was actually more impressive in my mind, mainly because there was more to see. The rubble was really my favorite part, just piles surrounding the temple, reminding me of what is and what was. I stopped for a bit and read, just taking in the sounds of the muslim chanting on a loud speaker and tourists walking by. I rodered some Nasi Goren-fried rice, and then we headed back to Yogya. I caught an evening puppet show and had dinner with my new friends, then we had to call it quits early again. The bus to Bromo left at 7am.
The following day wasspent literally in a bus the tnire time. We left Yogya at 8 and got into Bromo at almost ten at night. The tour to see the sunrise in the morning left at 3am…five hours of sleep if you could fall asleep. My sheets were wet and the room smelled like mold, so I spent most of the evening outside reading, and then finally crashed on the floor at 2am. The hotel manager woke me up and we headed for the volcano.
Bromo is an active volcano, still constantly billowing out massive amounts of smoke that can be seen from all the other mountains. We took a jeep ride up to the top mountain to see the sunrise, along with probably another 100 people that were doing the same thing. The sunrise was beautiful and very much worth it. When it was over it certinaly didn't feel like we had been hanging there for a good two hours. We then went to Bromo and hiked up the volcano. There are people offering horses to ride up the volcano, but the walk isn't too treacherous so we just walked up the side, took some pictures, and headed back down.
We took a Jeep back into town and waited for our bus that was supposed to come at 1130. It came at 1. in the meantime I had lunch at this ladies house down the street that had set up a rice making stall in front of her house. I was literally sitting at her kitchen table, watching Indonesian cartoons with her children and eating the hottest damn chili peppers I have ever had in my life.
The bus finally came and our bags were stacked in the back of the bus. There was A/C, and supposedly movies, but it was actually Indonesian music videos put on auto repeat for the next twelve hours. I think I could seriously recite the playlist. Ugh. The only two things of interest on the bus ride were; one the bus driver was insane. we were taking corners and passing cars like he was a formula one driver. I don't know how we're still alive. Honking here is more a form of "look out for me" not so much, "look out for you." So, the driver would pass six trucks carrying loads of dirt or bananas and such, around a bend where he could not see oncoming traffic at 80 miles an hour, honking his horn like a madman for people to get out of the way. Two, somewhere along the way this German couple that had rode in the minibus with us lost their phone. The husband had only gotten off to eat lunch (oh, that's another thing, a twelve hour bus ride and we stopped once. There was not a toilet on the bus. once. For lunch.) He borrowed someone elses phone to call it and see if he lost it in the cracks, and this Indonesian kid started birating and singing german music from his pocket.
Needless to say, the German was not happy. He got in his face and I thought a fight was going to break out on the bus. he got his phone back and told the driver. The driver pulled over in the next town about three blocks from the police station. Grabbed the kid by the nap of his neck and started wailing on him. Punching him, kicking him , and tossing him up against the side of the bus. he did not grab the kids bag, and he let him out to the authorities there. I hope the kid learned his lesson but doesn't get hanged.
We had to take a ferry over from Java to Bali, and ended up in Ubud at 1130 at night. We were supposed to go all the way to Despensar, but the bus driver was tired (seriously) so we had to take a taxi the rest of the way. We got to Kuta Beach at about 1 and walked aorund for the next hour trying to find accomodation. We finally found a place that was 100,000 a night (ten dollars roughly) and have been relaxing since. Enjoying the beach and everything being walkable. The funniest thing that I have sort of realized about being in Bali is seeing Westerners again…namely, women. After seeing nothing but Malay, Singapore, and then Indonesian women for the last three weeks, seeing attractive westerner women again has me feeling like I just got out of prison. Seriously. I definitely do not consider myself a pervert, but I think I finally understand why Asian people stare so hard at women when they walk the streets. I feel bad for taking them for granted inthe States.
Anyway, I met up with Team Braveheart once again and we've been grabbing lunch and dinner as a team. I was thining of heading to the Gilli's, and I know they're so close and Komodo is so close that I should, but, I think I'm just going to save the money. The islands aren't going anywhere and I really like where I am at. I'll more than likely stay here in Bali until I head to Vietnam in ten days to meet up with my sister. It's cheap, the food is good, and I have friends here. I can't argue with that.
BOROBUDUR BUDDHIST TEMPLE

PRAMBANAN HINDU TEMPLES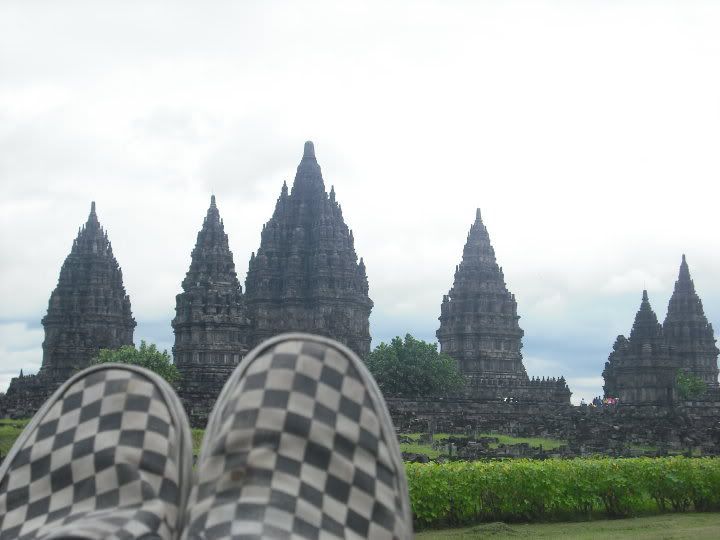 BROMO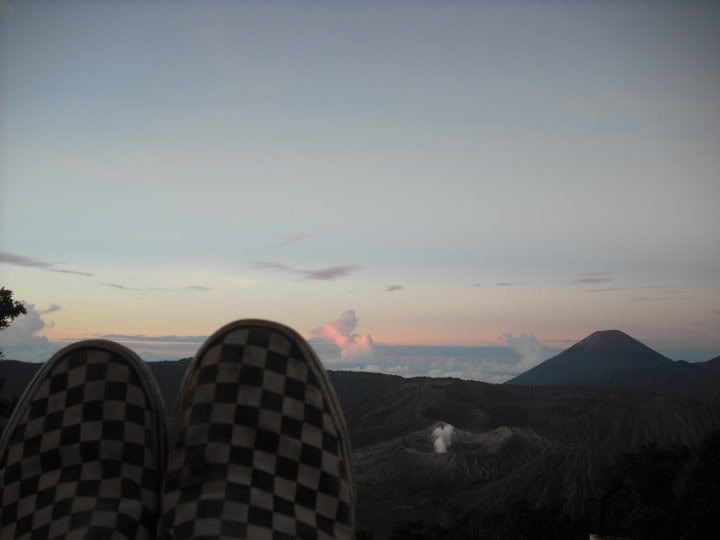 SUNRISE OVERLOOKING THE MOUNTAIN RANGE BROMO IS IN